Connecting Squads Beyond the Pitch with Sports Team Management App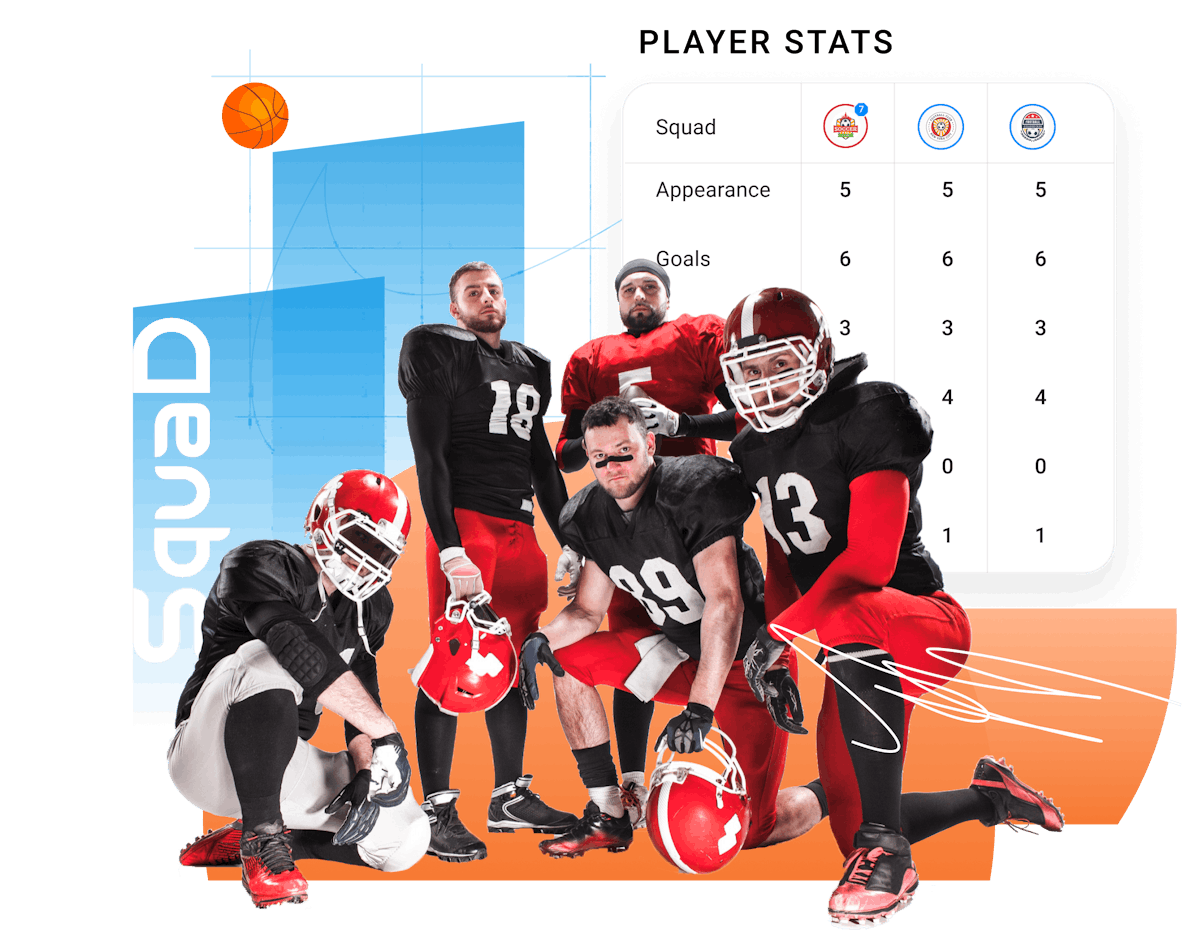 Intuz Development & Consulting
Full-featured iOS and Android Mobile App Development

Web Development

User-centric UI/UX Design

Cloud Infrastructure Set-up

Scheduling & Reporting System

Third-Party Service Integrations
About the Project
A client from the UK came up with an idea to develop a full-featured mobile application for sports team management. They have done full-fledged research on many development firms across the globe. After thorough research, the client partnered with Intuz considering our clientele, consultation approach, and project overview.
We developed a customized app that covers specific details for every match type enabling smooth and easy communication and organization for each stakeholder. One can smooth sail into the app for sports squad creation, chat with co-players, schedule a friendly meet, invite people to the match, post an update, and much more. 
The emerging technology stack has empowered the solution with scalability, and seamless performance.
Driving "Squad" to victory: the mobile application won the "START-UP ACCELERATOR AWARD".
Revolutionizing the Team Communication for Multiple Sports
From Football to Rugby to Cricket to Basketball and beyond - the app has covered multiple sports. Effortlessly create the events by selecting the game type, adding or inviting the players, and creating a squad and event as per the aligned schedule. 
That's not all, players can also view multiple ongoing events and send an interest to join the match or squad of their area of interest, i.e. soccer, football, netball, or any other. 
Experience the freedom of control: the organizer can also edit or display an event, make it public, limit it to a specific group, or invite outside sports enthusiasts, all at their fingertips.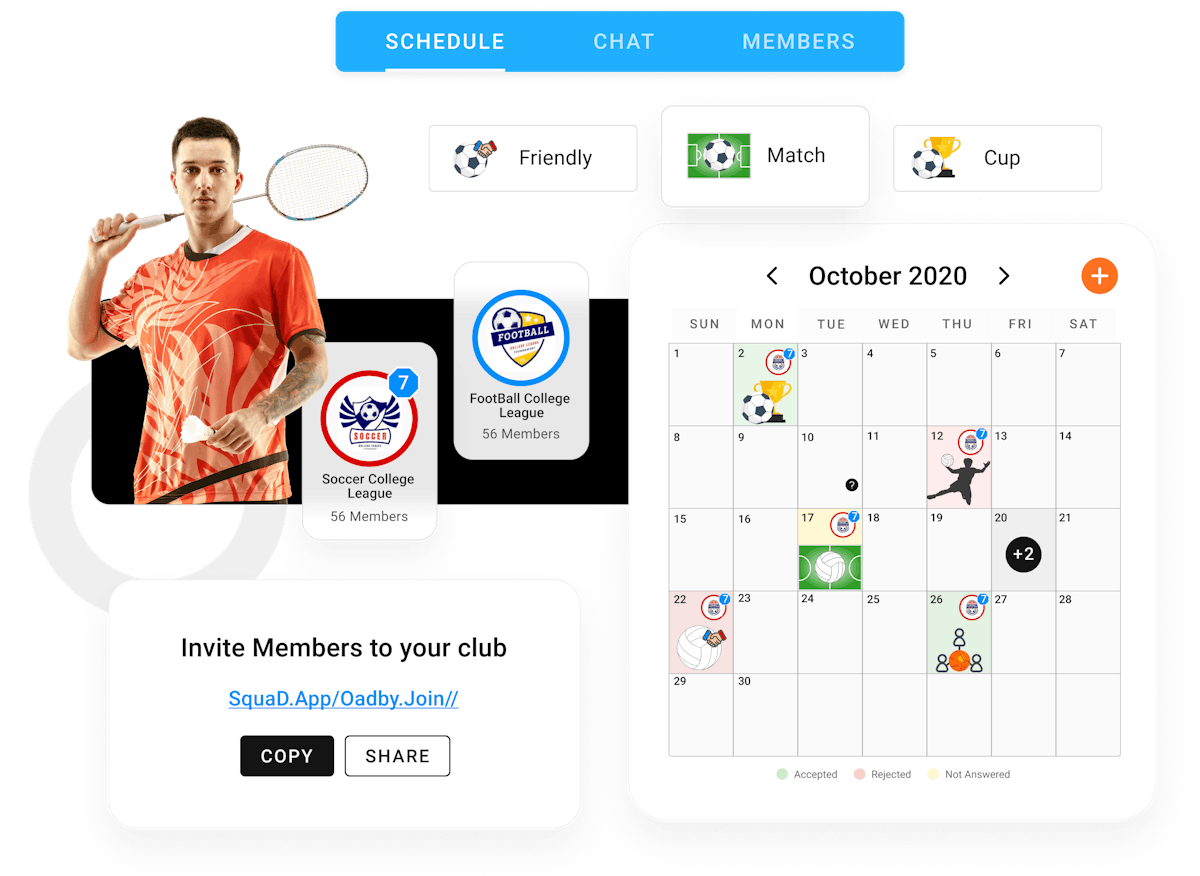 Bespoke Scheduling System For Uninterrupted Planning
Enabling the client to offer a fun-loving experience while the app manages all the organization, team management, and player participation. 
An innovative scheduling system has been developed specifically for team managers, enabling them to efficiently schedule, monitor, and make real-time adjustments to events as needed. Furthermore, it offers monthly event summary sheets for comprehensive overviews.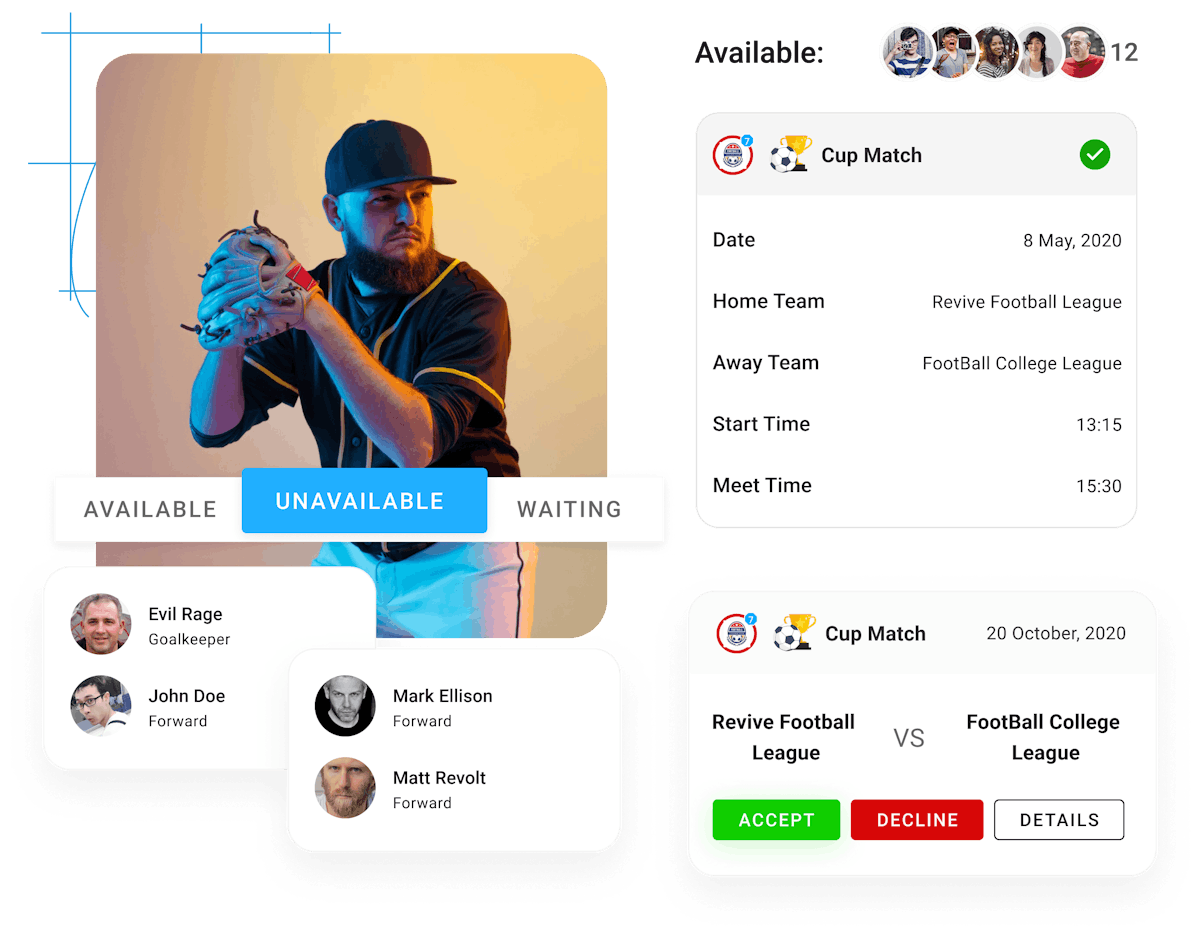 A Bird's Eye View On Team's Availability, Reminders to Boost The Participation
Each player has a comprehensive personal profile highlighting their sports interests, availability, and enthusiasm to join the squad. The team manager can review each player's availability and subsequently extend invitations to be a part of the squad. 
A dedicated section summarizes match details, encompassing match timing, home team, start and end times, score updates, waiting squads, and more. It also gives players the option to accept or decline the event invitations, enabling planners to know the player numbers well in advance to plan better. 
Moreover, the sports team management app sends timely reminders for every update, ensuring seamless progress of the match.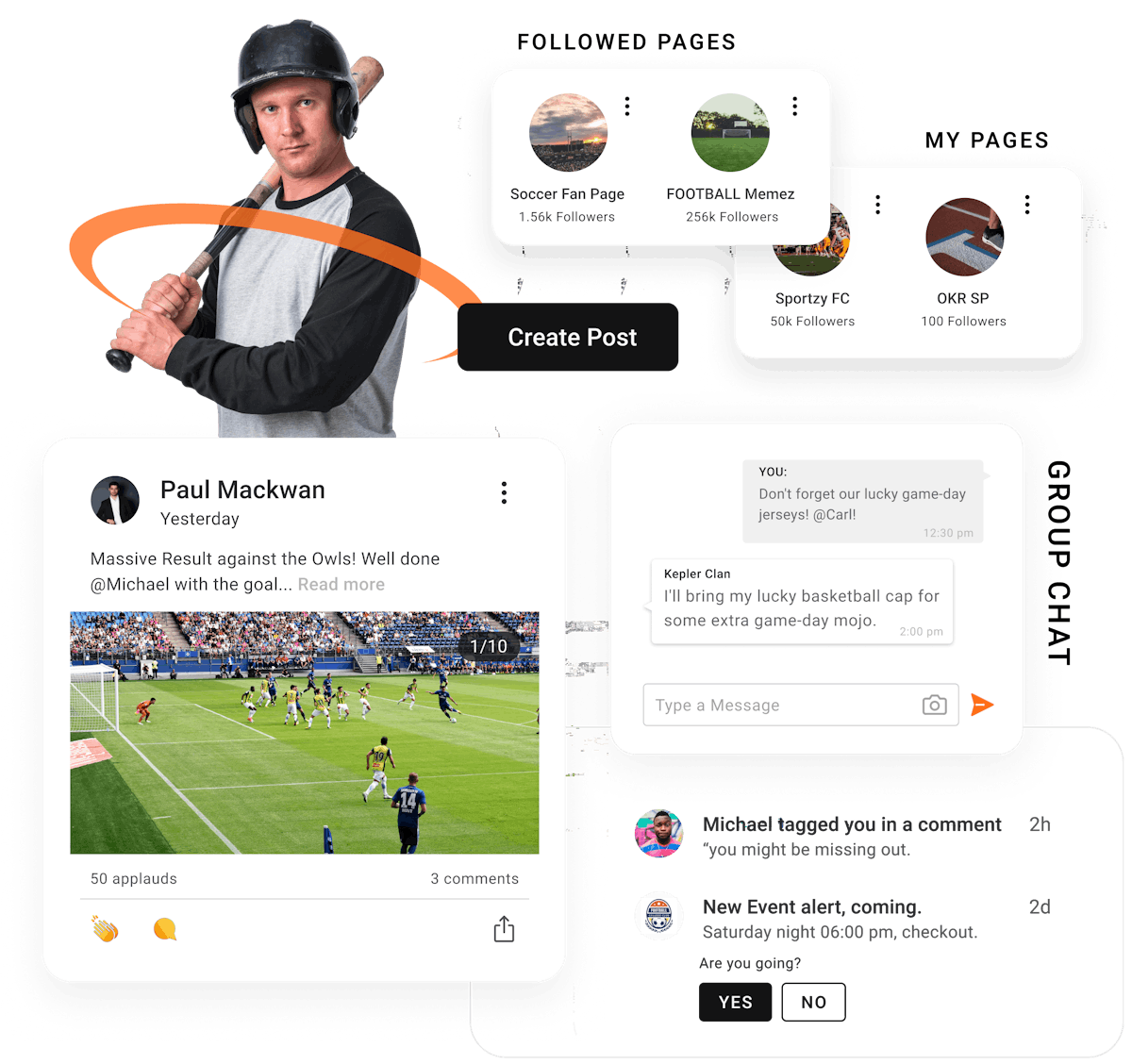 Boundless Communication - Tailored Profiles For Sports Team To Coaches & Clubs
'Squad' facilitates seamless communication within the app by offering personal and group chat options, allowing members to communicate and interact effortlessly. Furthermore, the app has a feature to create a post and make public announcements for all users. 
This functionality operates like a social media feed where one can share photos, videos for all the sports updates and news. Players can keep the squads club buzzing by applauding, commenting, sharing, and initiating discussions on the post shared. It enables community expansion to a very great extent. 
Players can also create the pages, invite people to join it, follow the pages created by fellow players to get instant updates, and more. Friendly notifications offer an overview of all the crucial details that a player should be aware of.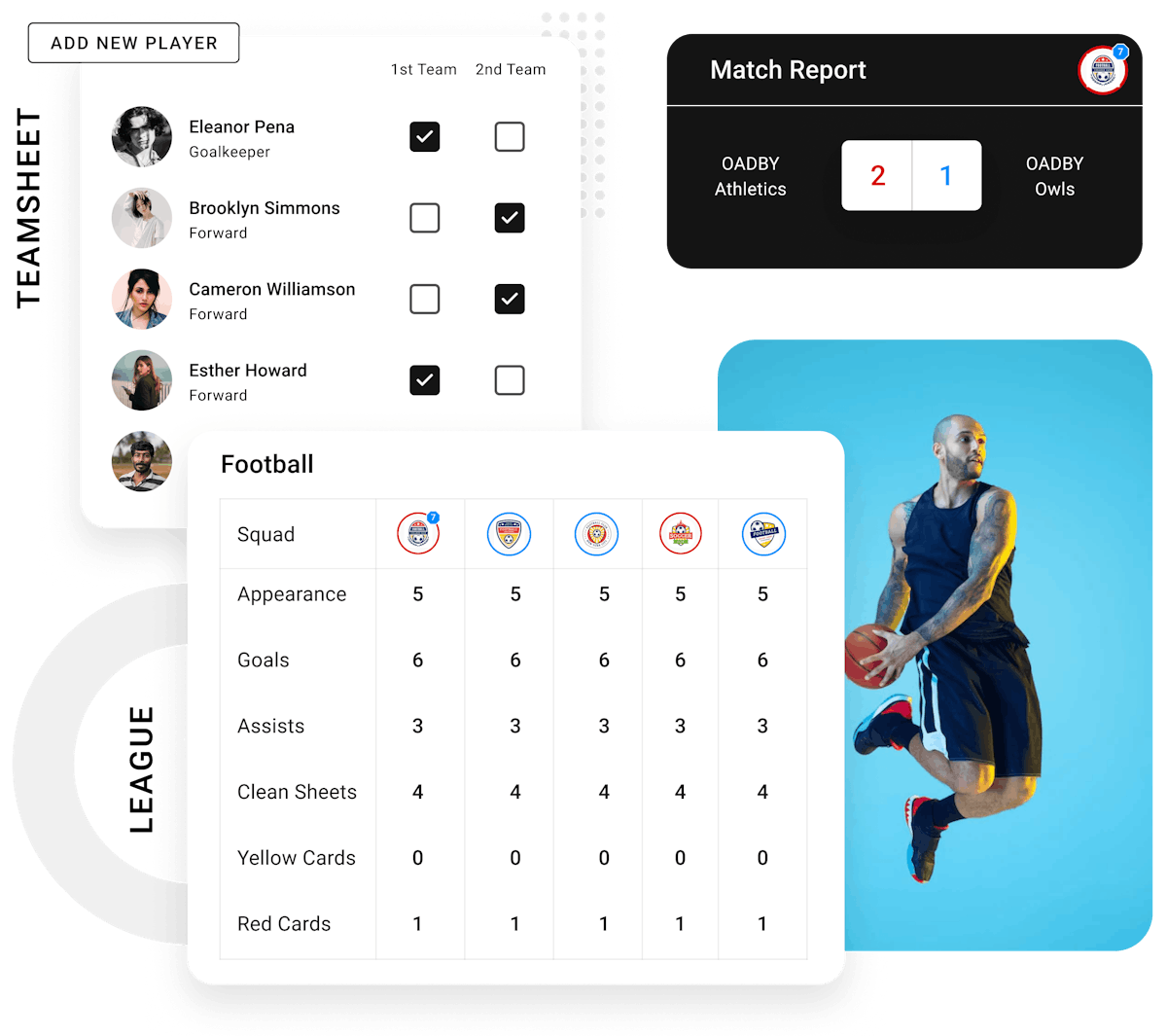 From Timesheet to Scores - Everything Beneath One Umbrella
We have developed a best-in-class feature for reviewing player attendance, checking RSVP status, monitoring attendance, and monitoring punctuality rates throughout the matches and other planned events. This aligns well with the app's goal of fostering a sports spirit among the team. 
Users can also access the score updates of the match, player performance evaluations, 'man of the match' recognitions, and various other minute details related to the score. Get rid of the headaches of scores or timesheets with the exceptional sports management and socializing app.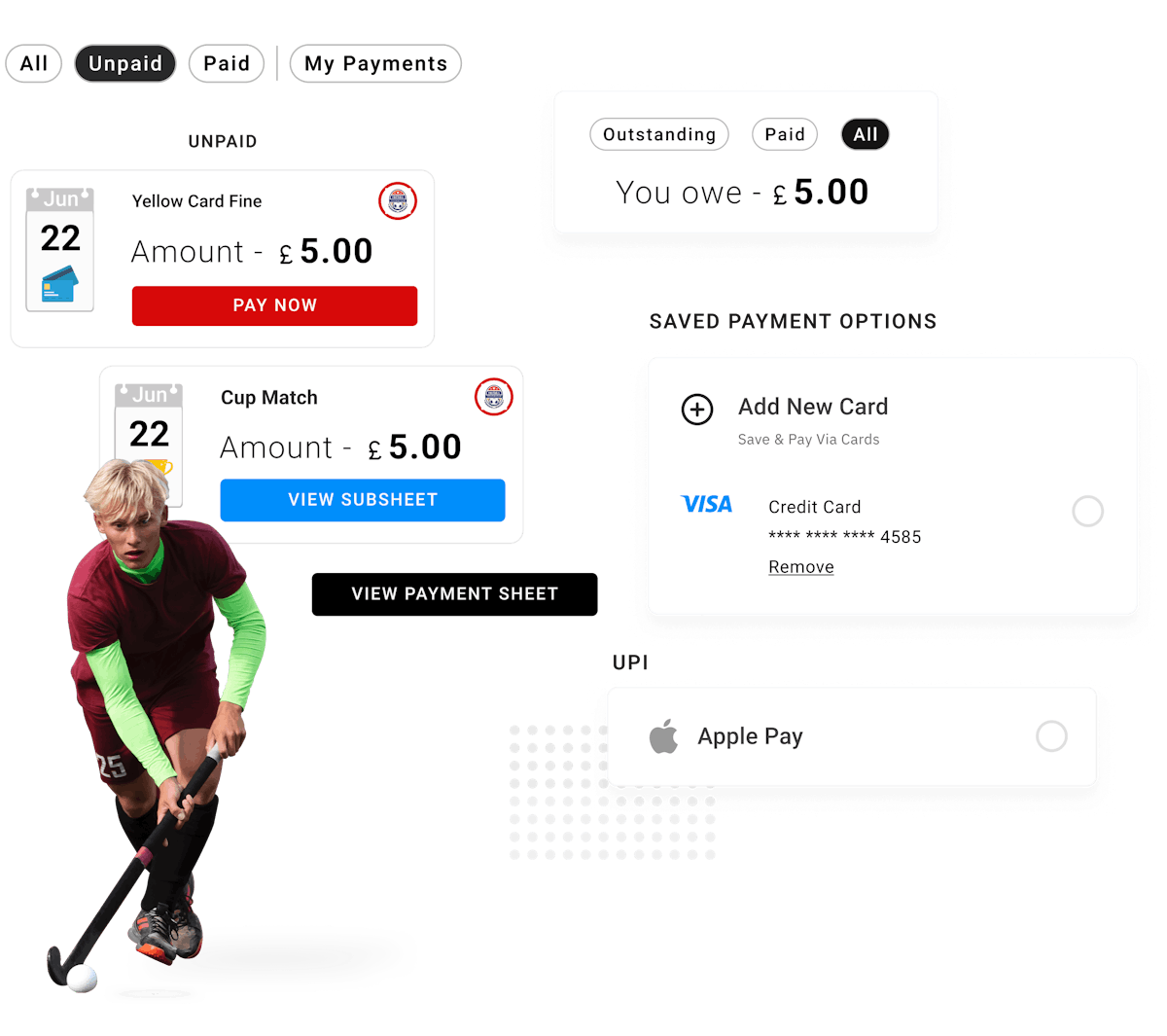 Elevating the Finances With Effortless Payment Tracking
The app incorporates a hassle-free finance system that adeptly tracks payments on a weekly or monthly basis, whether they are paid or unpaid. The system also sends reminders for pending payments, upcoming dues, and more. 
Multiple payment modes have been made available to simplify the payment process. Users can make payments through UPIs, credit or debit cards, and more. The app also offers a summary sheet detailing the payments made, outstanding balances, and upcoming payments. It facilitates smooth finances for both organizers and players.
React
JavaScript
MUI Components
What Our Client Says
We changed the way they do business, and they have no complaints
Matthew Baird
Founder - Squad
Let's Talk
Let us know if there's an opportunity for us to build something awesome together.