A Retail E-commerce Solution For A Beauty & Personal Care Brand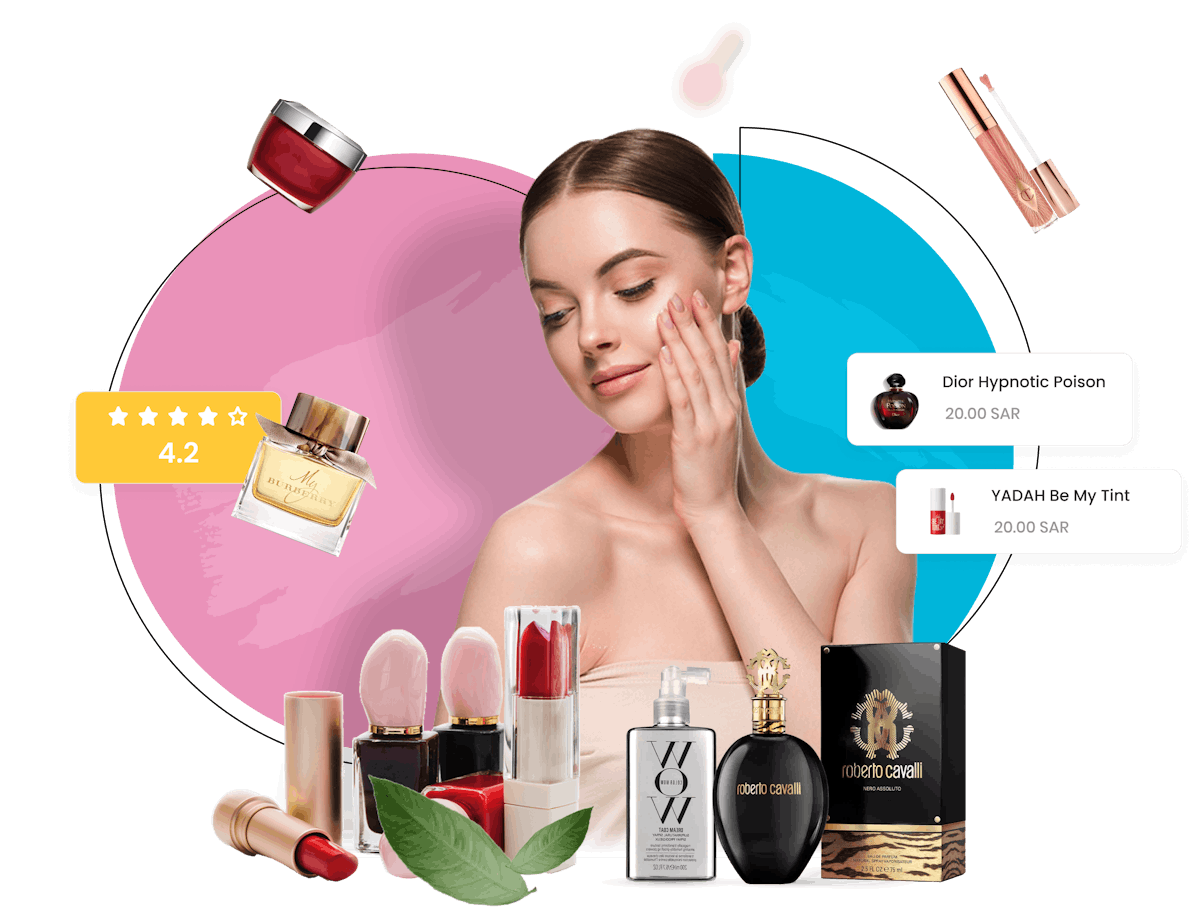 Intuz Development & Consulting
Full-Featured Custom eCommerce Store Development

iOS & Android Mobile Applications

Third-Party Payment & Shipping Service Integration

Google Shopping Integration

Multi-Language Store - English & Arabic

Custom Admin Panel

Odoo Integration Services
About the Project
Along with highly competitive prices and speedy delivery, Body Plus ensures an exceptional online shopping experience for its customers. They initially sought our expertise for building their Android and iOS apps after being introduced to us by one of our satisfied clients.
Having successfully delivered the mobile solution, we were excited to expand our collaboration to develop Body Plus' eCommerce web store. The final solution comprised a user-friendly website and intuitive mobile applications for both iOS and Android platforms.
To cater to their diverse customer base, we implemented English and Arabic language support in the user interface. Additionally, we integrated multiple third-party services for seamless payment, shipping, SMS, and EMIs. We leveraged Google Shopping to enhance their online business capabilities.
To equip Body Plus for managing their operations, we developed a custom admin panel that provides them with access to comprehensive reports, analytics, and the ability to efficiently manage products and store settings.
Leveraging cutting-edge technologies and tools, we have successfully empowered Body Plus to exceed their sales, surpassing those made through traditional offline channels.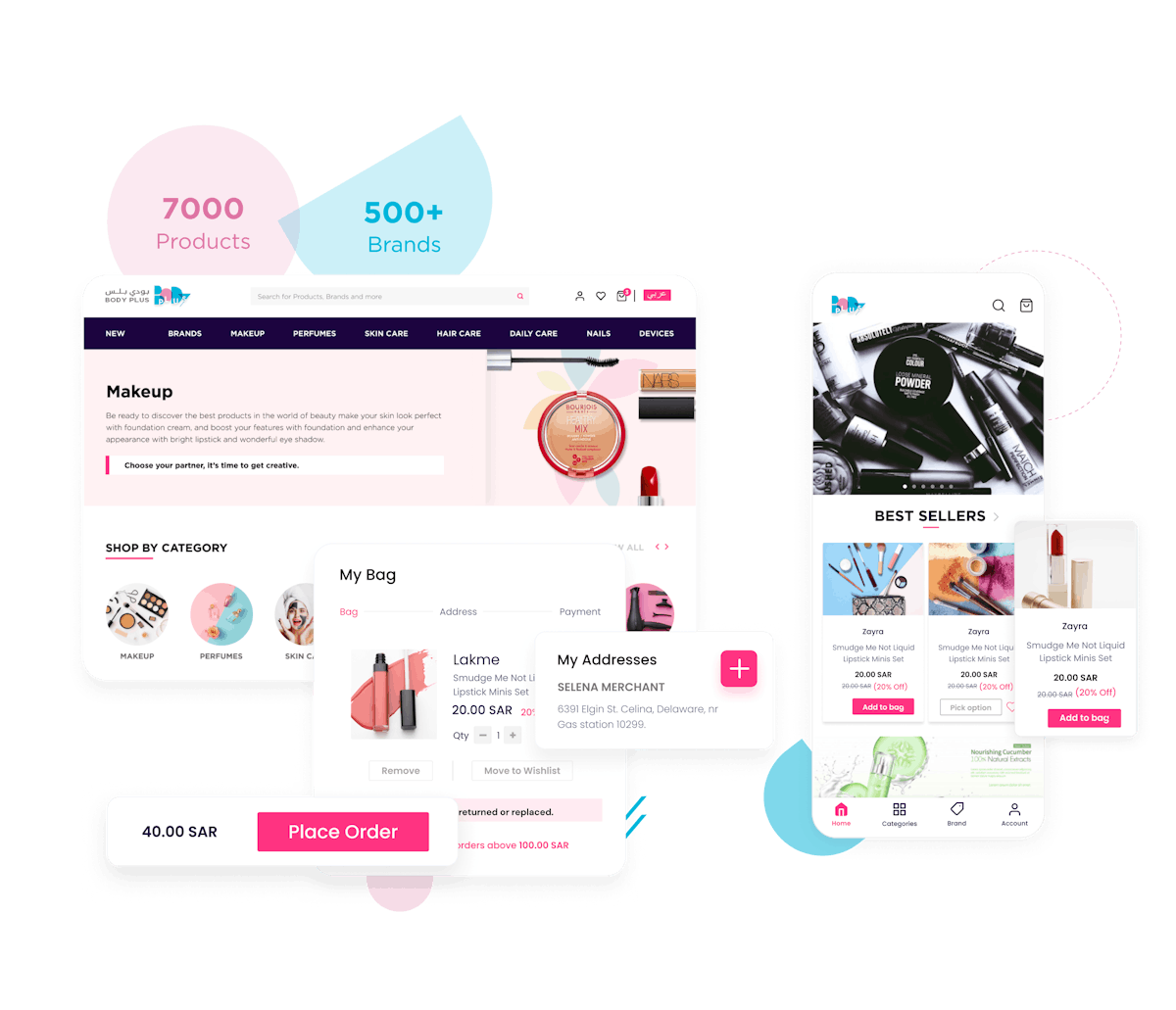 Enhancing User Interactions With A Stunning Ecommerce Platform
We equipped Body Plus' website and mobile apps with distinctive features such as wish lists and filters, catering to personalized cosmetic preferences, physical attributes, skin types, and more.
The filters include criteria like brands, pricing, product type, size, and others, ensuring every user finds exactly what they are looking for. We ensured the solution offered different styles and colors for a single product and multiple options within the same brand easily.
The website and mobile apps are also well-optimized to manage many SKUs of over 7000 products and 500+ brands. The user-centric design approach has tremendously helped Body Plus generate more sales, drive higher revenues, and boost customer satisfaction.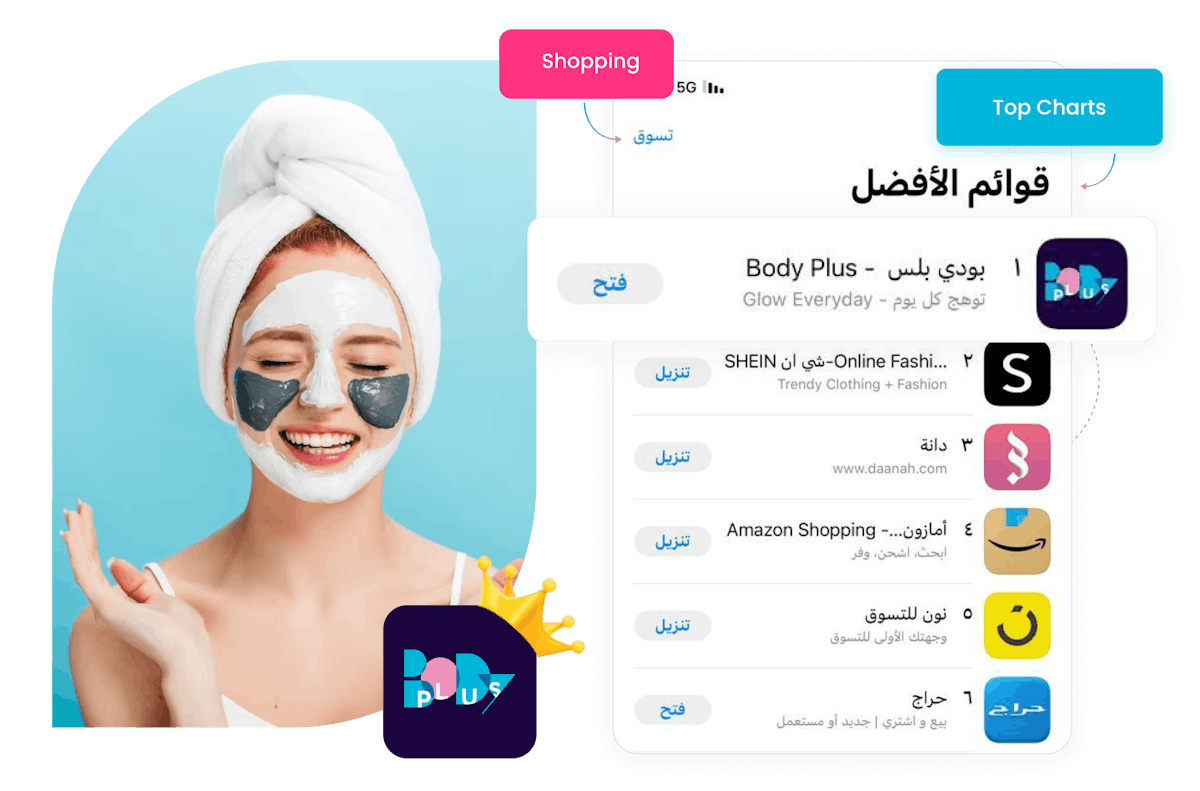 The App Topping The iOS Store "Shopping Category" In KSA
Our solution for Body Plus has yielded impressive results, with them securing the 1st position in the "Shopping Category" on the iOS Store in Saudi Arabia. This success has seen them outpace even major companies such as Amazon!
We achieved a high app store ranking through:
A significant increase in the number of new users added
High app usage, including both session frequency and total in-app time spent
Rapid growth in the velocity of downloads and user engagement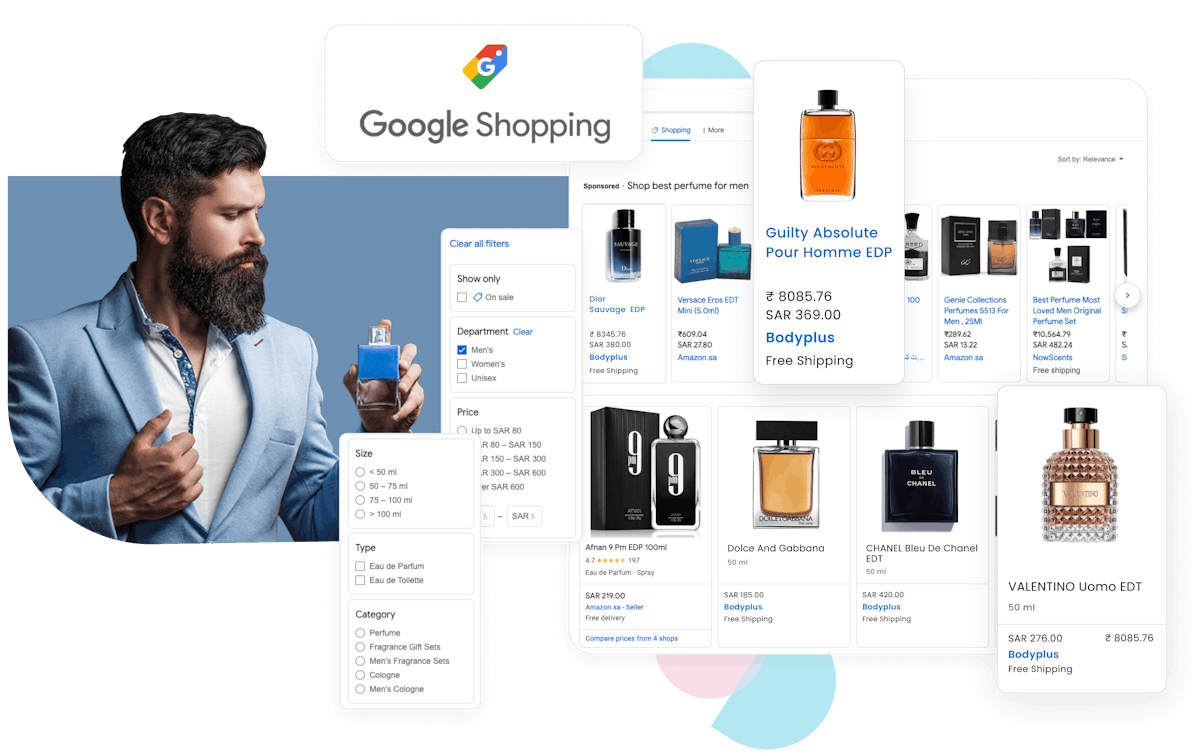 Accelerating Sales Through Google Shopping Integration
Managing Google Shopping for an eCommerce store that holds an extensive array of SKUs across varying categories, and offers support in multiple languages - Arabic and English, can pose certain complexities.
Our team, equipped with specialized knowledge and skills, dealt with these challenges easily. We ensured that Google Shopping correctly displayed the various product listings spanning different categories.
Furthermore, we maximize Body Plus' visibility and reach by fine-tuning product data and optimizing search keywords. Our meticulous attention to detail broadened the store's customer base and amplified sales.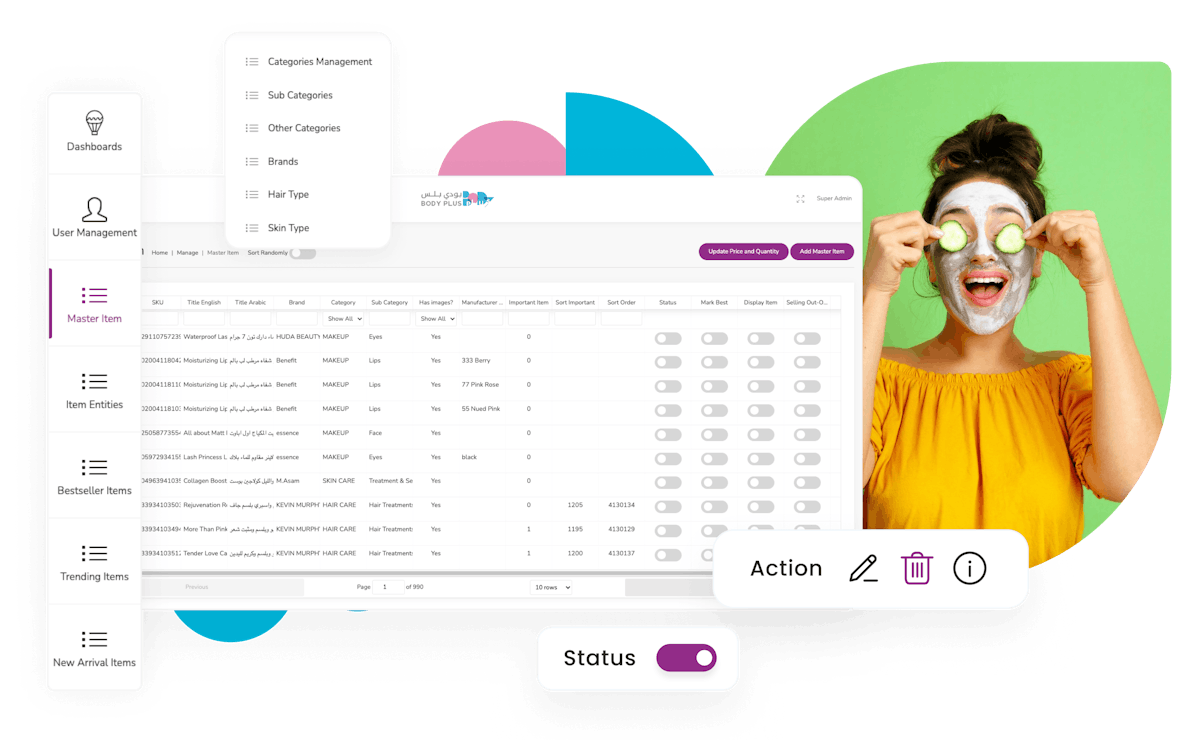 Providing A Single Point Of Control With An Intuitive Admin Panel
We built a robust admin panel for Body Plus that puts store management at their fingertips. They can easily track and oversee all store elements, from monitoring inventory levels to handling order processing. They can organize all product data, including listings, descriptions, images, and categorizations.
Besides access to real-time reports and analytics, Body Plus has control over product pricing, offer setup, and discount management. They can even create, distribute, and track the usage of coupons and discounts to boost sales and foster engagement, all with a click of a button.
Automating Operations With All-In-One Odoo ERP Integration
Our team implemented the Odoo ERP solution for Body Plus, automating their business processes on the website and mobile apps. We synchronized inventory, pricing, product, and customer data seamlessly.
We managed two warehouses - one for the app, which stores the online store data, and the other one, which holds the physical goods delivery data. With a two-way synchronization system, we ensure Body Plus' store data updates are in sync with the Odoo database.
We also streamlined their supply chain by automating inventory and order processing to reduce human errors and speed up order deliveries.
We customized Odoo v15 to meet the specific needs. Additionally, we developed HR and Accounts modules, enabling employee management, payroll processing, financial accounting, and custom reporting for decision-making.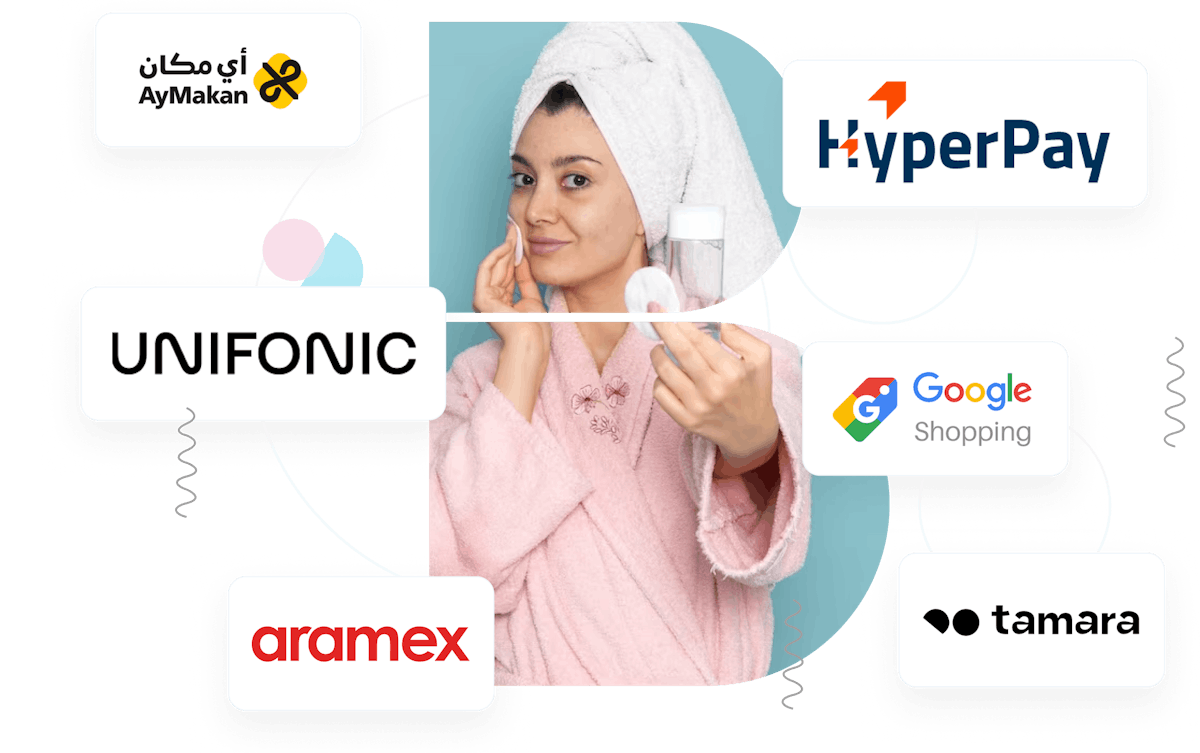 Enabling Secure Transactions and Delivery With Third-Party Integrations
Integrating third-party services into KSA-based sites can be challenging due to procedural, authentication, and permission considerations. However, we boast a high success rate in assisting our clients navigate these complexities.
We efficiently integrated third-party shipping companies like Aymakan and Aramex for Body Plus to help them track order deliveries, monitor shipment progress and manage addresses.
For payment services, we chose providers like Tamara to facilitate EMI payments and Hyperpay to give Body Plus' customers more options to pay for the purchase and close the sale.
We have also incorporated Unifonic's SMS gateway for OTP generation to boost security and user experience on the eCommerce store.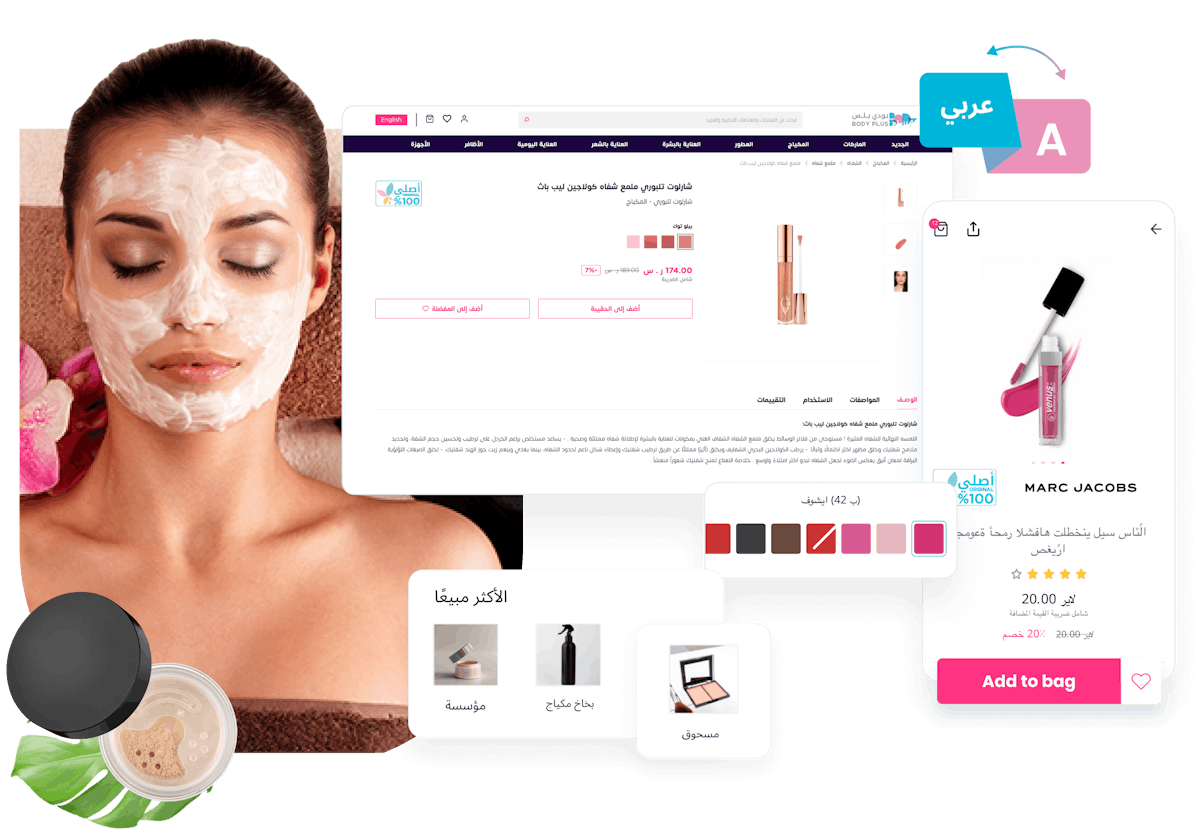 Localizing User Experience: Bilingual Support In English And Arabic
The eCommerce platform uniquely caters to the diverse linguistic preferences of Body Plus' customer base, supporting both English and Arabic languages. We incorporated the bilingual functionality for a personalized and inclusive user interface, allowing shoppers to navigate and transact comfortably in their preferred language. This "glocal" approach successfully enhances user accessibility on Body Plus.
What Our Client Says
We changed the way they do business, and they have no complaints
We have interacted with Intuz Services for nearly 3 years now. We have never faced any issues, and they always delivered the project on time. The resources were always up to the challenge level and beyond.
Let's Talk
Let us know if there's an opportunity for us to build something awesome together.